5th Annual Cody's Crab Feast
The Cody St. John Foundation presents our Fifth Annual Crab Feast Benefit Saturday, September 17, 2011, 1 – 5 PM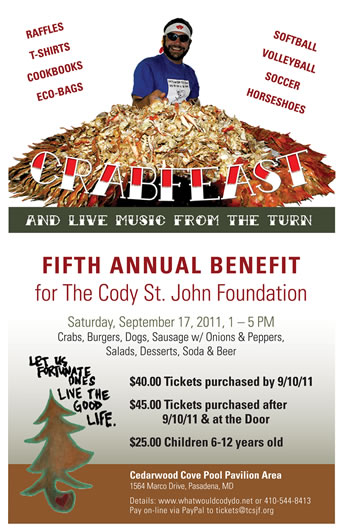 Please come and enjoy some delicious Maryland Steamed Crabs, Burgers, Hot Dogs, Sausage w/ Onions & Peppers, Salads, Desserts, Soda & Beer
Along with lots of great food we'll be having:
Raffles
Live Music
Softball
Volleyball
Soccer
Horseshoes
$40.00 Tickets purchased by 9/10/11
$45.00 Tickets purchased after 9/10/11 & at the Door
$25.00 Children 6-12 years old
As always we'll have T-Shirts, Cookbooks, and Eco-Bags for sale.
Join us at:
Cedarwood Cove Pool Pavilion Area
1564 Marco Drive, Pasadena, MD
For more information or to purchase tickets:
Call: (410) 544-8413
PayPal to tickets@tcsjf.org
Did you know this year…
The Cody St. John Foundation awarded 5 – $1000.00 scholarships for medical education?
This was only possible through your continued participation in this and our other events, we can't thank you enough for your support!
This year the crab feast will have a special guest, David Freshman, Cody's HEART RECIPIENT!
Please check out our Facebook Event Page and pass the word about this great event! You can also find news and updates on our Twitter page.
All profits go to provide scholarships to assist Professional Ski Patrollers in furthering their medical education.
Thanks to Nicole Mogyorosi ( @houseofhazelnut) of http://www.houseofhazelnut.com/ for designing our crab feast poster!